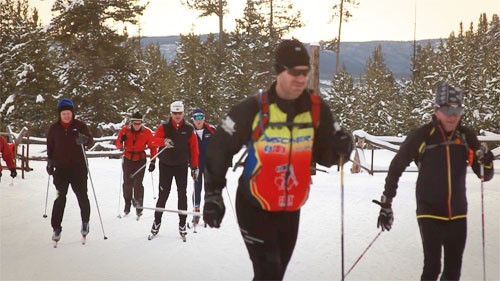 As evidenced by my escapades a few weeks ago, I'm not the world's best cross-country skier. Since I've been practicing my technique on a few easy trails around Bozeman and Livingston, I sat down with a friend of mine who has possibly skied every groomed trail in Montana's Yellowstone Country. Here are some of his favorite trails (and one of mine).
1. Brackett Creek (my favorite!)
Why it's awesome: It's perfect for beginners (it was the first trail I ever skied) and has delightful views of the Bridger Mountains the entire ski. It's definitely not flat, which means you'll get your heart pumping in no time—perfect for a chilly day. Plus, it's a quick jaunt from Bozeman and right past Bridger Bowl, so if the family is spending the day downhill skiing, you could head out for a morning on trail and meet them for lunch.
Distance: 3.4 miles roundtrip
Elevation: 480 vertical feet gained
Difficulty: Easy
Driving Directions: Head north out of Bozeman on North Rouse Avenue. North Rouse swings east and turns into Bridger Canyon Drive. After driving 19 miles from Main Street, turn right onto Bracket Creek Road. The parking lot is ¼ mile on the right, but the trailhead is back behind you, just across Bridger Canyon Drive from Bracket Creek Road.
2. Porcupine Creek
Why it's awesome: Porcupine Creek begins as a wide-open meadow, with gorgeous 360-degree views as you get warmed up. Snowmobiles are prohibited, which means you'll likely have this trail all to yourself, especially if you go on a weekday. Plus, it's part of the Porcupine Elk Reserve—which means you're likely to see some bigger game (maybe even a moose) on your journey.
Distance: 4.5 – 5 miles roundtrip
Elevation: 560 vertical feet gained
Difficulty: Easy/Medium
Driving Directions: Drive west on Huffine Lane from Bozeman until you get to Rt. 191. Take a left onto 191 and drive 36.5 miles to Porcupine Creek Road (it's past the turn off to Big Sky). Make a left and drive half a mile to the trailhead.
3. Bear Creek Trail
Why it's awesome: Bear Creek Trail is the entry point for the Bear Creek Trail System, just above Jardine, near the north entrance to Yellowstone National Park. This means that there are near infinite opportunities for a long day of skiing in some of the prettiest terrain around Yellowstone Park. Plus, the elevation change is manageable, meaning you can have a long leisurely day of skiing without as much huffing and puffing—not to mention you get views of Yellowstone National Park and Electric Peak.
Distance: 8 miles round trip
Elevation: 225 vertical feet gained
Difficulty: Medium/Hard
How to get there: Driving out of Livingston toward Yellowstone National Park, head south toward Gardiner for 51 miles. Before crossing the Yellowstone River, veer left toward Jardine and drive a little over 5 miles. When you get to Jardine, take a right just over a bridge onto Bear Creek Road. The parking area is 1.7 miles up on the left.
4. Goose Creek
Why it's awesome: This trail is rolling hills, which means you'll get to climb a little and then descend shortly thereafter. While it could be much shorter (it's an out-and-back, so you can turn around whenever you'd like), completing the whole trail is a commitment and takes a while, even for serious skiers. But, if you make it the whole way, you'll come across the Trail Creek Forest Service Cabin, which you can rent out for an overnight trip (just be sure to pack food, water, sleeping bags and pads) or a place you can simply stop to have lunch before turning around. And, because the ski itself is quite mellow, turning this into an overnight trip could be within reach for the whole family (though it's probably best for older kids).
Distance: 10 miles roundtrip
Elevation: 300 vertical feet gained
Difficulty: Medium/Hard
Driving Directions: Drive east from Bozeman on I-90. Exit at Trail Creek. Turn right and follow Trail Creek Road for 3 miles until you get to Goose Creek Road. Make a right and drive two miles to the gate.
5. East Dam Creek
Why it's awesome: Get ready to get your sweat on. With almost 2,000 feet of elevation gain, East Dam Creek makes you work for it. But work it is worth. The first part of the trail travels on an easy road that's relatively wide, but soon—after the Forest Service Gate—you'll find yourself climbing a winding, steep and narrow trail. Though there are gorgeous outcroppings where you can rest and take in the view of the Absarokas, it's mostly a wooded trip, meaning you'll relish the silence and serenity of being encompassed by the trees.
Distance: 8.4 miles roundtrip
Elevation: 1,490 vertical feet gained
Difficulty: Hard
Driving Directions: East Dam Creek is accessible via the Mill Creek Trailhead. From Livingston, drive south on Highway 89 for 15 miles. Make a left onto Mill Creek Road and go just over 11 miles. The road ends at a gate. Park there after January 1, (which is when the gate closes). To ski to East Dam Creek, follow Mill Creek 1.6 miles up the closed road. You should see a trailhead sign on the left pointing to East Dam Creek.
For more information on renting out the Trail Creek Forest Service Cabin, check out this website.
What are your favorite cross-country ski trails in Yellowstone Country?